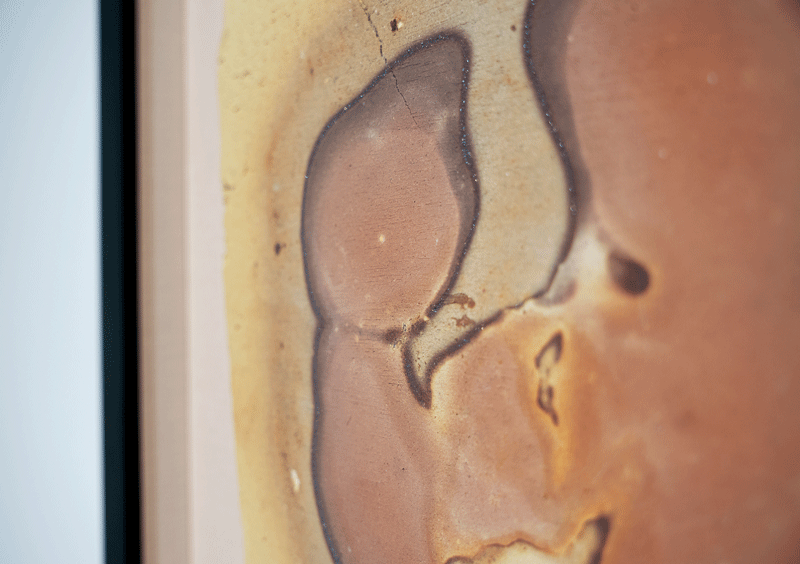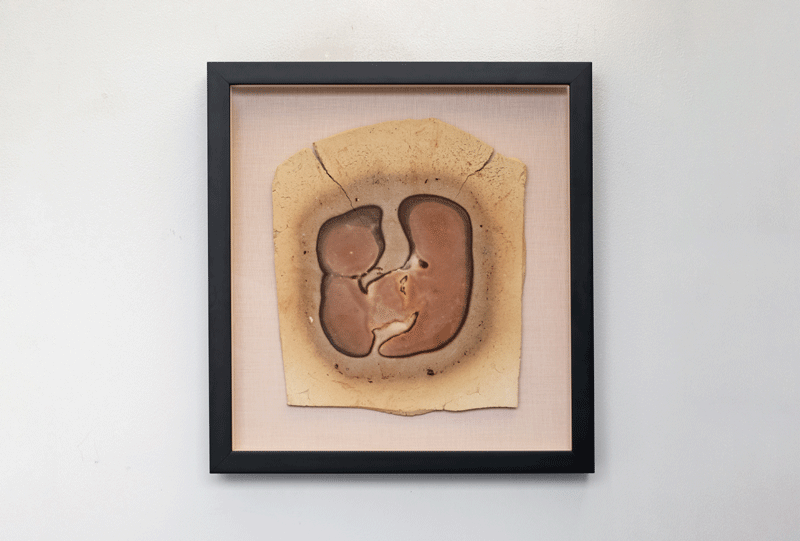 Scar Script – kidney, 2023
---
Materials:庭土、陶土、植物、その他
Materials : Soil, Plants…
Size: H46.8, W43.6, D4 (cm)
Solo shows : Scraped Script はがされた余韻や明ける癒紋
Group shows :
Photo : Miauchi, ToLoLo studio


強い痒みの最中には、身体の内側が燃え上がるかのような感覚が湧き上がる。その熱を、制作のプロセスで表せないかと考え、土を焼くという陶芸の手法を用いた。
長野の庭土と、いま住んでいる横浜の土を混ぜ、そこに幼少期から皮膚の治療の一環で用いてきた植物や塩、薬を練り込む。陶板にのせて何度も焼き、その焼き跡、痕跡を陶板に残す。色も輝く粒も、混ぜ込んだ素材による反応。

Intense itching, a feeling as if the inside of the body is on fire. I wanted to express this heat through the process of making it. That is why I chose the method of firing ceramics. The clay is soil from the garden of my old home in Nagano Prefecture mixed with soil from Yokohama, where I live now, and then mixed into the clay together with plants, salt and medicine that have been used for skin treatment since I was a child. The clay is placed on an earthenware plate and fired repeatedly, leaving marks and traces of firing on the plate. These colors and shiny particles are a reaction to the "impurities" that are mixed in. The image above shows a piece of pottery fired on top of the ceramic plate.